Quilt Lovers Bingo at Moose Lodge July 15th. Doors open at 12:00. Bingo commences at 1:30. Get your game on and have a blast! Wins some prizes. Hosted by the Pocono Mountains Quilters Guild.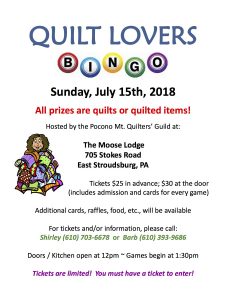 After your done winning at Quilt Lovers Bingo, come down to our Fabric store to load up on supplies.
We have a great selection of quilting fabrics. Let our clerks help you find the right item for any project.  While your there, browse through our ribbon and craft selections.
Don't forget that we also do trophies, awards and custom printed ribbon.