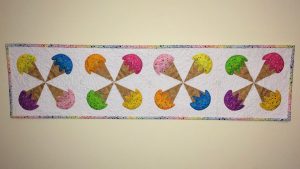 Row by Row 2019
The Row by Row "Taste the Experience" will start on June 21st and run through September 3rd. We are once again participating and will be offering a free pattern for our row. Here is our row for this year. "Sweet Creams"
Kits will be available, check back soon for pricing
Don't forget to visit our ribbon section, or gander at our craft items. Most noteworthy is our trophy, awards, printed ribbon and engraved gift section.
We hope you will come to visit us and see all that we have to offer. Please be sure to visit our online store to purchase your ribbons when you can't make it to the store in person.