2021 NE Shop Hop
Attention Shop Hoppers:
There is a small mistake in our block directions. Each of the nine squares that make up the block should be trimmed to 4 1/2″, then sewn together to make a 12 1/2″ unfinished quilt block.
In one paragraph in the directions, it states trim to 4 1/4″.
Ignore that. Trim to 4 1/2″
Looking forward to Eastern PA Shop Hop 2021!
Dates are Nov 5 – 20, 2021.
Hours: Mon – Sat 10-5; Sun Noon – 4PM.
Wooden Bridge, In Stitches, and Ladyfingers will be closed on Sundays.
The Featured fabric collection is "Bali Impressions – Photo Impressions", which is a batik collection by Benartex.
Passports will go on sale at each participating shop starting August 1. Price is $6 – which includes a block fabric kit with pattern, passport, and tote bag.
Here are photos of the free block featured in the passport (purple and blue star) and American Ribbon and Fabrics block (green and blue star).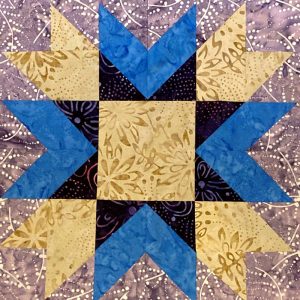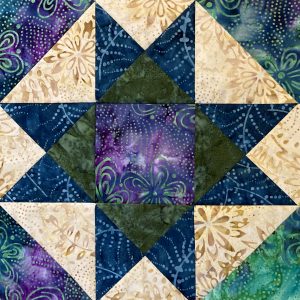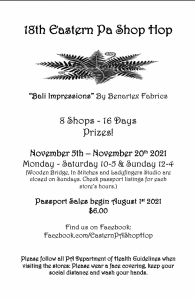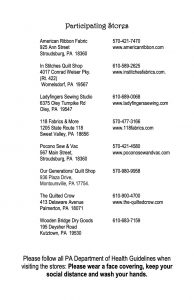 Quilt – 84″x84″

Finishing kit for $75.99 plus tax