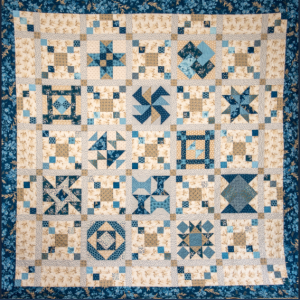 2018 NE Shop Hop
Eastern Pa Shop Hop starts November 2nd and runs through November 17th. Passports are still available for $5.00. Included with the passport is a free block kit.  The passport also included two extra block patterns and coupons for all the participating stores.   Our quilt is featured here and on our Face Book page. The quilt measures 95″ x 95″ and a finishing kit will be available for $75.59 plus tax. We hope you can come and join us.
 Coupons are redeemable starting December 1st 2018.
16th Annual Eastern Pa Shop Hop
"Something Blue"
By Edyta Sitar for Andover Fabrics
9 Shops – 16 Days Prizes!
November 2nd – November 17th, 2018 Monday – Saturday 10-5 & Sunday 12-4 (Wooden Bridge and In Stitches are closed on Sundays)
Passport Sales begin August 1st, 2018 $5.00
We welcome two new stores to the Shop Hop
"Our Generations Quilt Shop" from Williamsport, PA and "The Round Bobbin" from Ambler, PA.
Find us on Facebook: Facebook.com/EasternPAShopHop
 Shop Hop Participating Stores
American Ribbon Fabric 925 Ann Street Stroudsburg, PA 18360
The Country Quilterie 2783 Route 115 Effort, PA 18330
In Stitches Quilt Shop 4017 Conrad Weiser Pky. (Rt. 422)
Womelsdorf, PA 19567
Ladyfingers Sewing Studio 6375 Oley Turnpike Rd Oley, PA 19547
118 Fabrics & More 1205 State Route 118 Sweet Valley, PA 18656
Our Generations' Quilt Shop 1307 Park Ave
Studio 6-108
Williamsport, PA 17701
The Round Bobbin 1126 Horsham Rd Ambler, PA 19002
The Quilted Crow
413 Delaware Avenue Palmerton, PA 18071
Wooden Bridge Dry Goods 195 Deysher Road Kutztown, PA 19530
570-421-7470 www.americanribbon.com
570-620-9707 www.countryquilterie.com
610-589-2625 www.institchesfabrics.com.
610-689-0068 www.ladyfingerssewing.com
570-477-3166 www.118fabrics.com
570-980-9958
215-367-5596 www.roundbobbinquilts.com
610-900-4700 www.the-quiltedcrow.com
610-683-7159