2021 NE Shop Hop
Please Join us for the 18th Eastern PA Shop Hop November 5th – November 20th 2021.
Passports go on sale August 1, 2021 for $6.00 each. There are 8 shops participating in the Shop Hop this year. The fabric being featured are the "Bali Impressions" line of batiks from Bernatex Fabrics.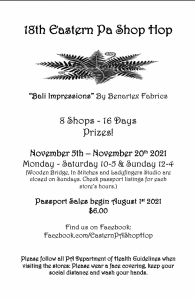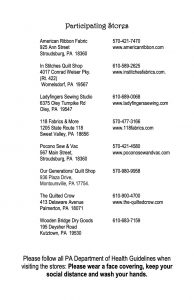 Don't forget to visit our ribbon section, or gander at our craft items. Most noteworthy is our trophy, awards, printed ribbon and engraved gift section.
We hope you will come to visit us and see all that we have to offer. Please be sure to visit our online store to purchase your ribbons when you can't make it to the store in person.